Are you planning to visit Barcelona for Work? Maybe for an Expo or Congress, and in need of a good recommendation about hotels? We have made a curated overview of the best hotels you can find next to Fira Montjuic and Fira Hospitalet for you stay in Barcelona. 
Although you may find many hotels in these areas we recommend the following based on our own and our clients' reviews.
Barcelona Fira Montjuic
Located next to Plaça España and one of the most transited parts of Barcelona city, Fira Montjuic offers many expos and congresses each year. 
1. Catalonia Plaza – Plaza España 4*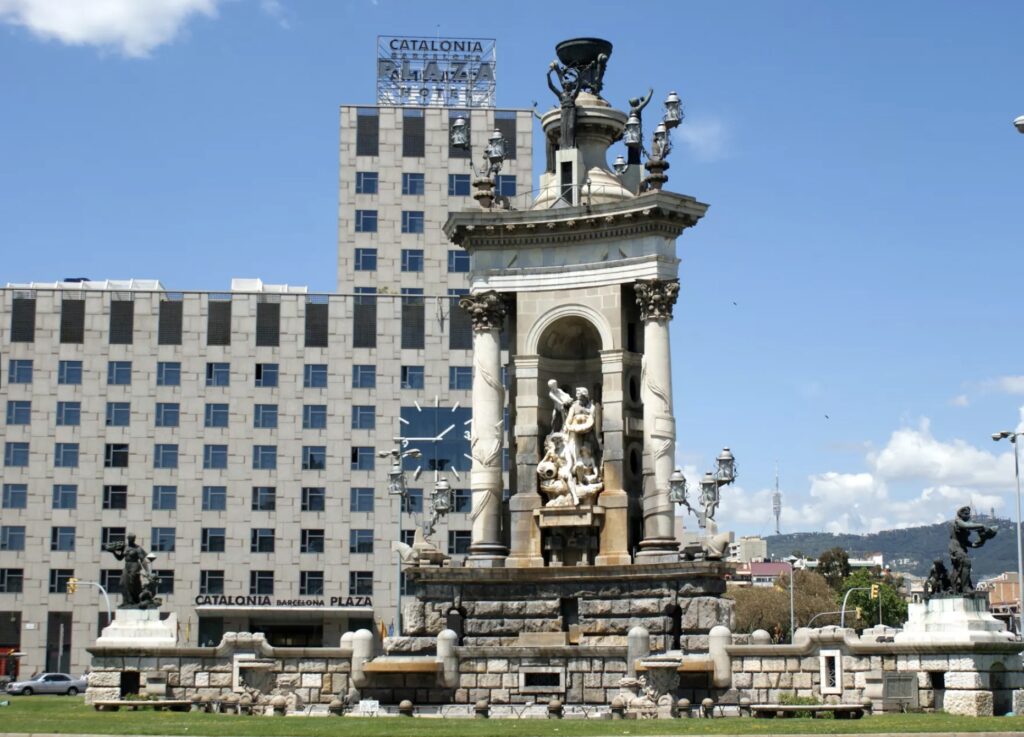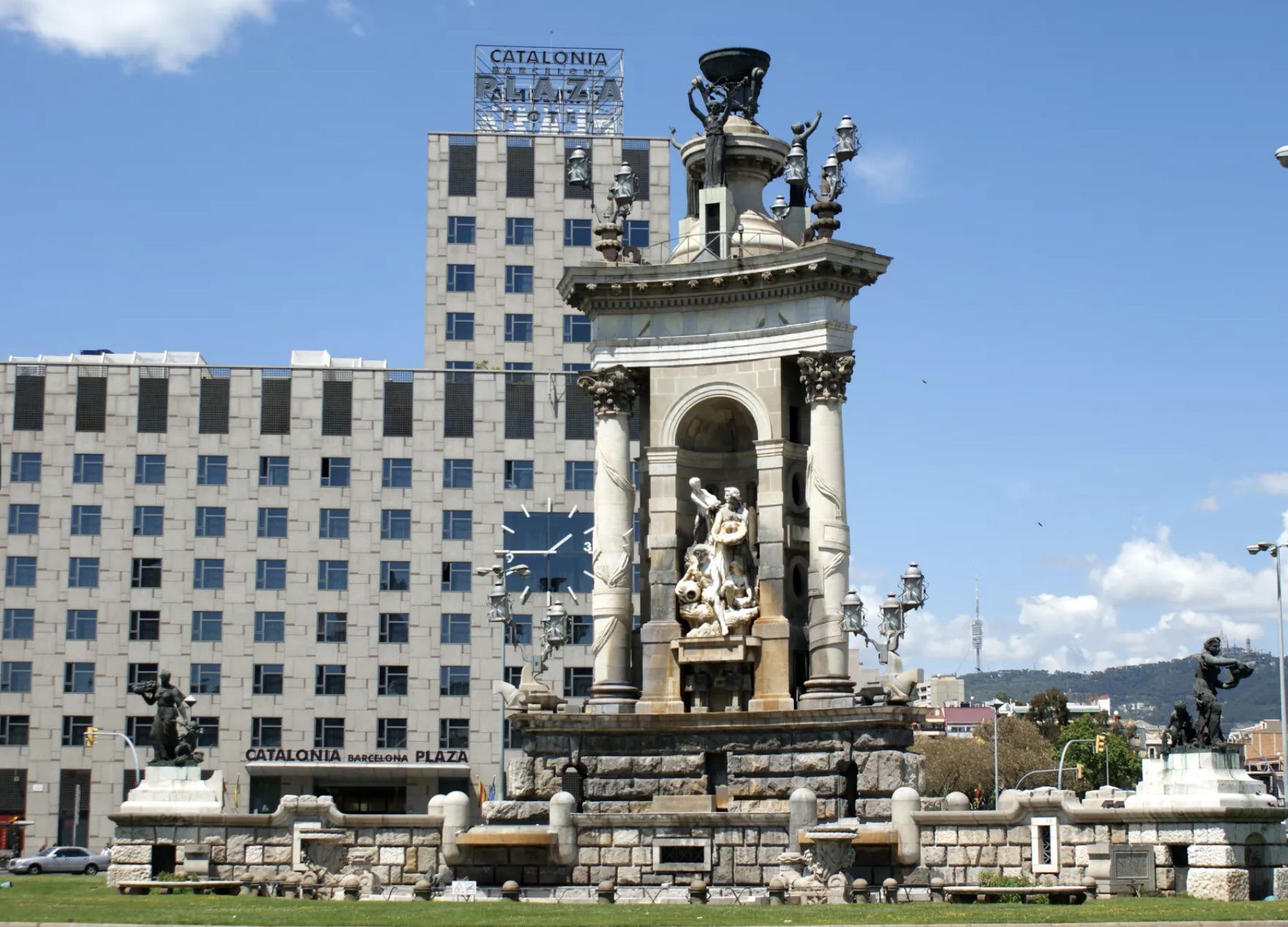 One of the most emblematic hotels in Barcelona, located on Plaza España Square, with views of Montjuic and it's fountains. Only a few meters away from Fira and ready to offer a unique experience. Rooms include the giant clock suite, top suite with amazing terrace and great restaurant in same hotel building.
2. Crowne Plaza Barcelona Fira 4* (Now IHG Intercontinental)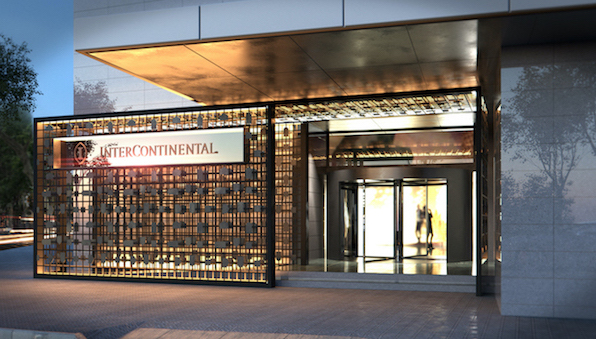 This hotel is chosen by many football teams for their stay, it has a Michelin star restaurant and offers great quality-service. This hotel is intended for visitors to Montjuic Fira Expos and therefore is totally business oriented. Rooms aree business basic.
3. Ayre hotel Gran Via 4*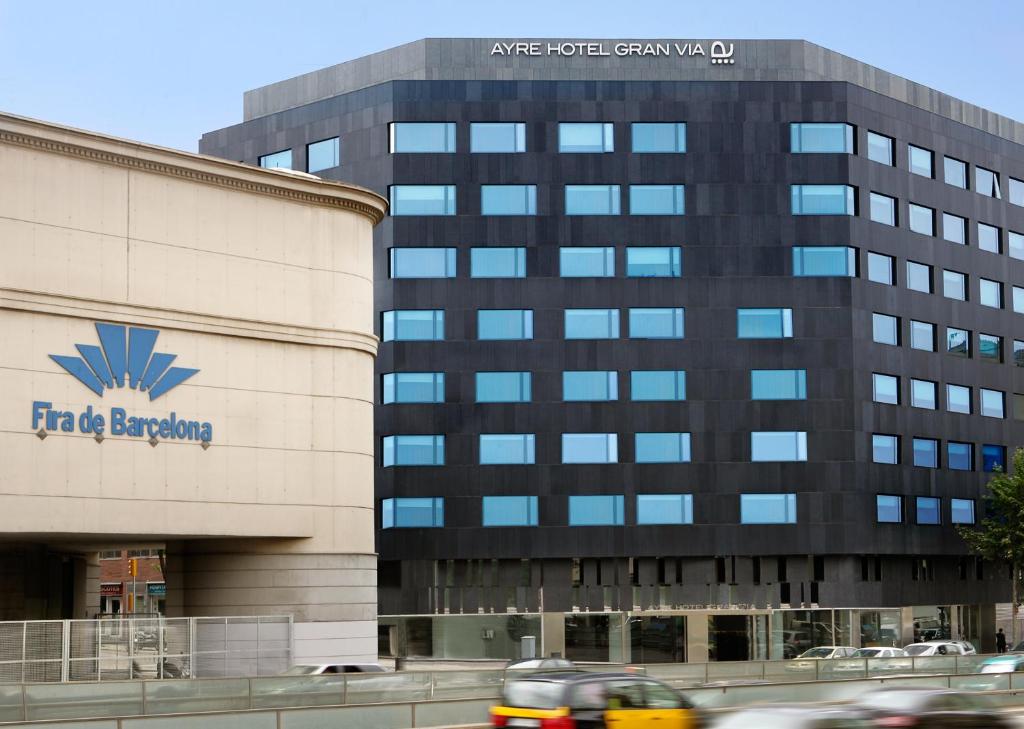 A modern design hotel, with privileged location next to Montjuic, one of the closest hotels to the expo buildings. Clients mention among other pros room insonorization and hotel amenities. Also intended for expo travelers and offers a business center, meeting room and gym.
4. Hotel Miramar GL 5*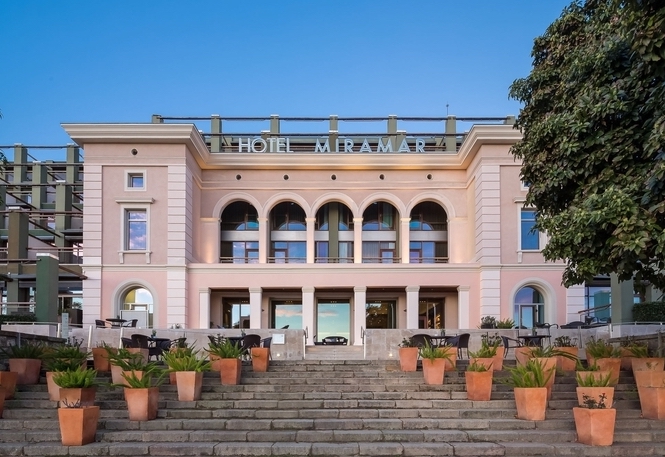 Although this hotel is further up on Montjuic mountain, it's definitely a hotel you will want to visit. Even for a glass of wine on their sunny terrace with beautiful mediterranean sea views. This hotel not only is a 5 star great luxe, but also a Spa and relax hotel. It provides a quiet relaxed atmosphere, perfect to get away from the busy work schedules and relax watching the Barcelona sunset. One of the most beautiful hotels you will visit in Barcelona. If you like their style, check out same property hotel but in Tibidabo area: Gran Hotel La Florida. 
5. Barcelo Sants 4*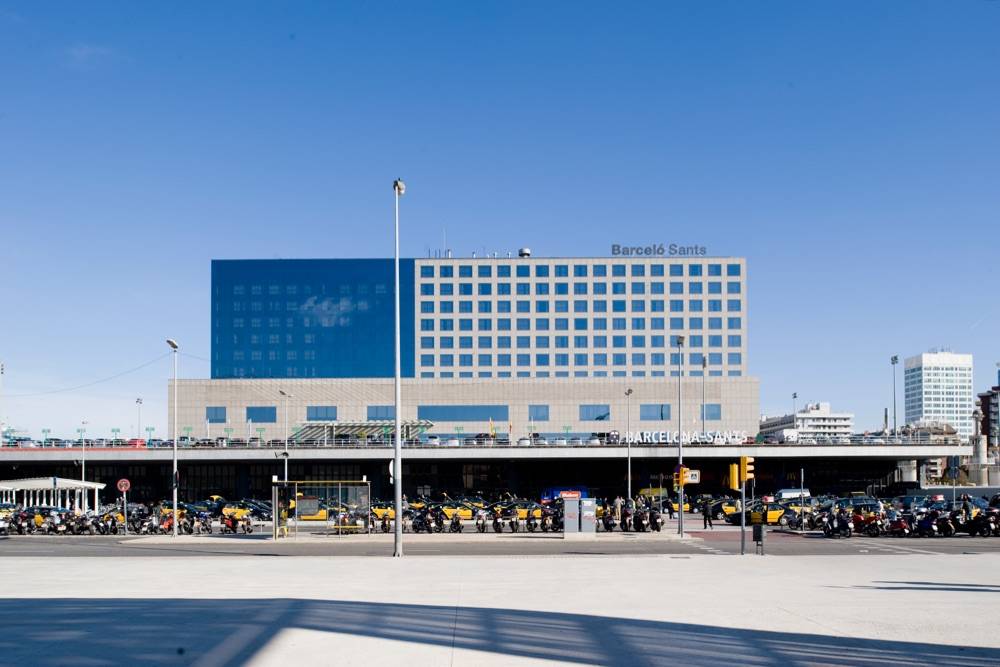 We could say this is one of the most comfortable hotels for business travel. Amazing areas for meetings, business center and lounge area. Clean, wide open spaces, intended for travellers and business meetings. It's about a 10 minute walk from Fira montjuic and right next to Sants Station, which makes it very accesible by metro/train and good connection to airport. It's truly an experience to see how this hotel is submerged in a "space themed" decor. Staff are extremely friendly and always efficient, which is of help.
Barcelona Fira Hospitalet
About 5 minutes from Barcelona city and 12 minutes from Airport this area is known as the new Expo center for Barcelona. World renowned fairs such as the Mobile World Congress take place here. Next to the expo complex, you may find a very large shopping mall (Gran Via II) and IKEA, restaurants and amenities are available just a minute away. 

1. Hotel Porta Fira 4*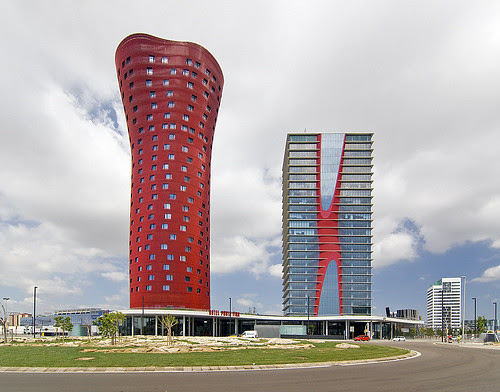 One of Barcelonas most emblematic buildings with an innovative architecture designed by Japanese Architect Toyo. Includes a Japanese garden and high end restaurant. Located just opposite of the Expo building, a few meters away. Gym, meeting rooms and a spacious lobby area.
2. Renaissance Fira 4*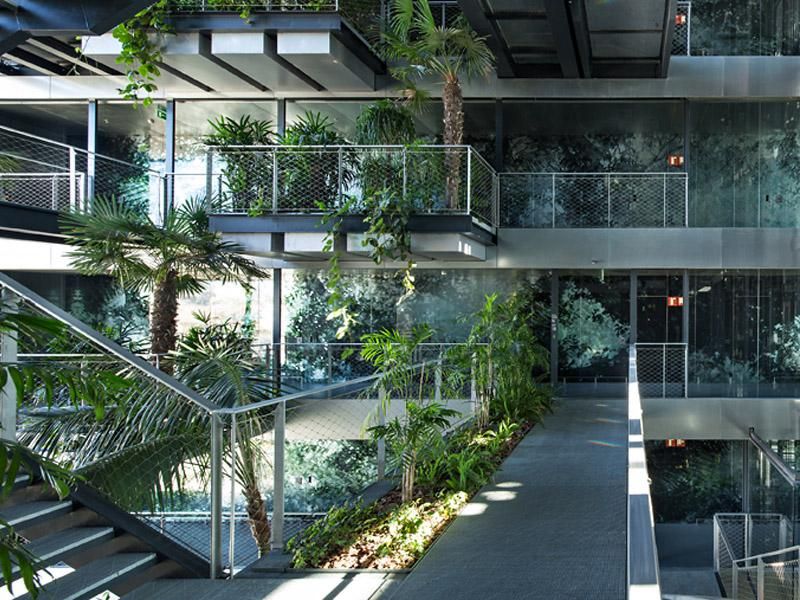 Incredible interior design of this building will transport you to a tropical place within a business-oriented hotel. Definitely the most luxury hotel in the Hospitalet Fira area. Rooms are carefully designed, and very clean. For an afterwork meeting or just a relaxing moment you can enjoy the roof top swimming pool and bar or get a massage at the hotel Spa. Our clients also mention the great quality restaurant
3. Hotel SB Plaza Europa 4*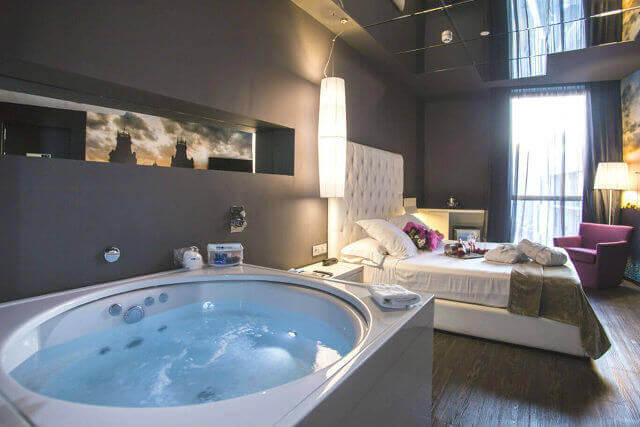 Amongst other amenities this hotel has meeting rooms, and amazing lounge and bar, and clean design rooms, check out their suite with large bath. Our clients have mentioned a great breakfast. This hotel also has a roof top swimming pool, in case you have some time to relax 😉
4. Leonardo Royal Hotel Barcelona Fira 4*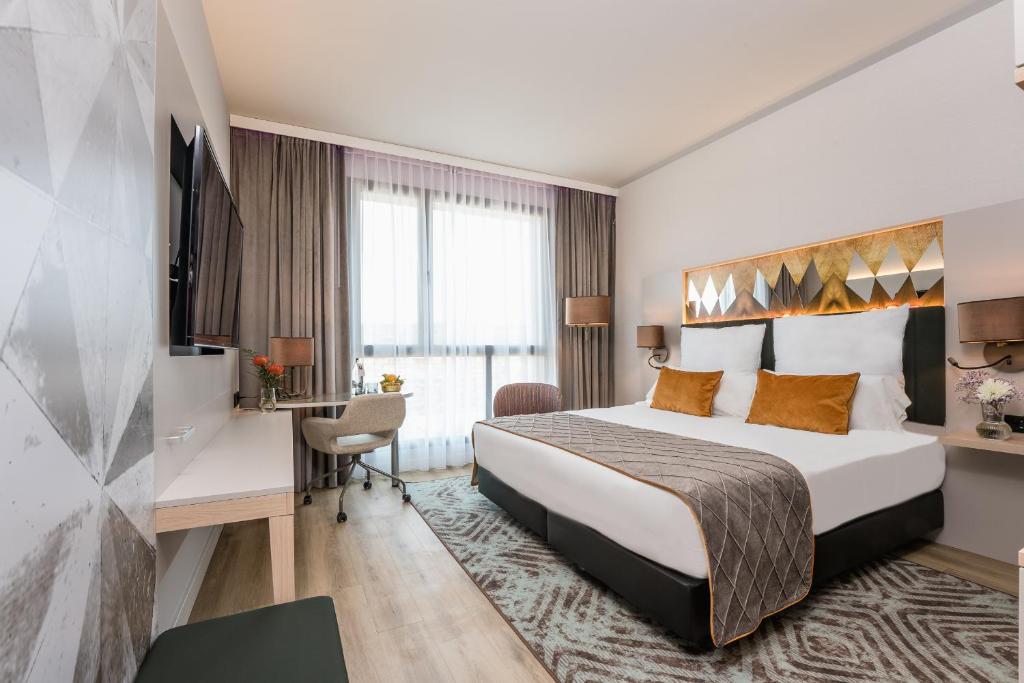 One of the newer hotels next to Hospitalet conventions center (open 2021). We have less reviews on this hotel, but seemed important to mention. Elegant and comfortable option just 8km from airport. Offers spacious lobby, roof top pool, large terrace-bar, small gym and good variety breakfast.
5. Hampton by Hilton 3*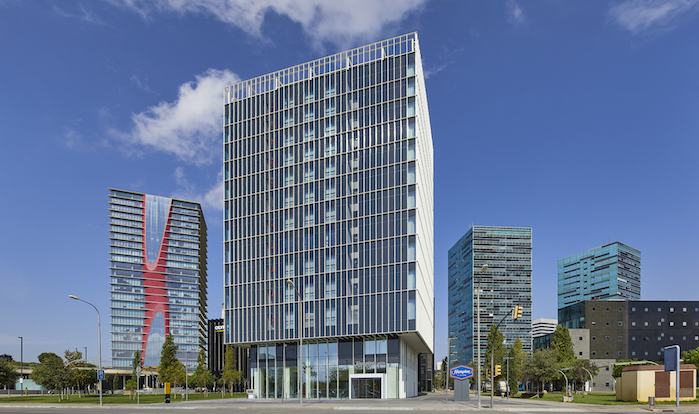 Straight forward, 3 star hilton hotel. Large colourful and cozy lobby lounge and bar,small gym, variety of meeting rooms. Our clients mention and value their new and very clean rooms. 
We hope this information was helpful for your next visit to our beautiful Barcelona!
Mia